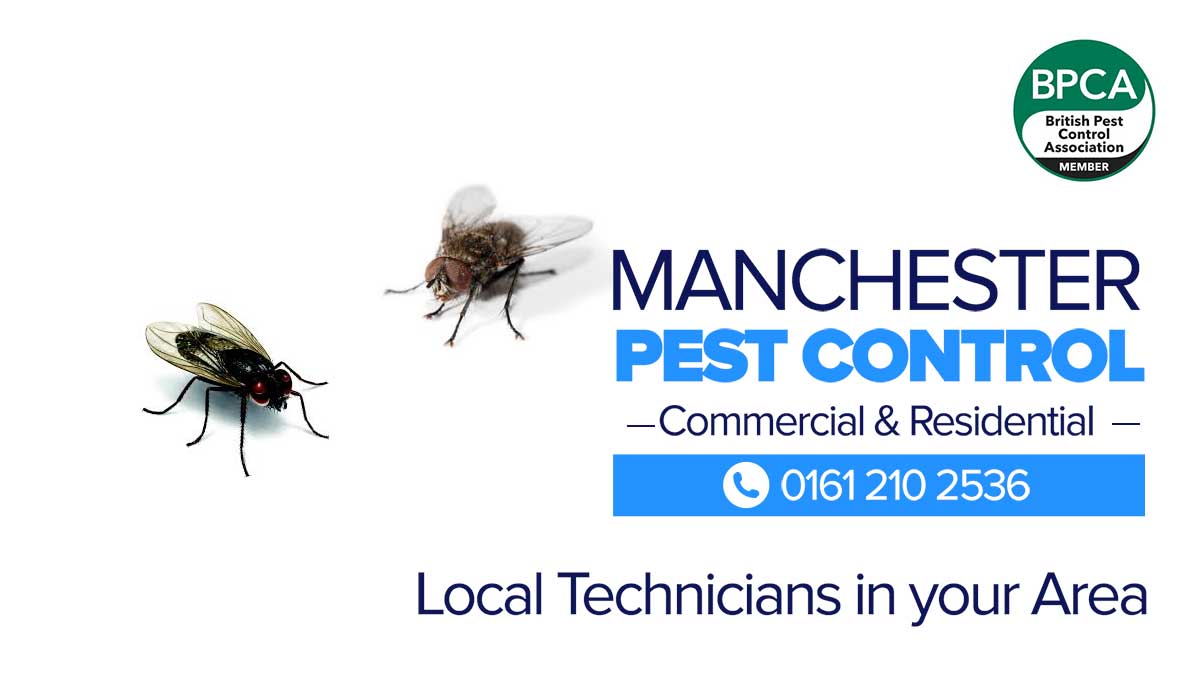 House Fly Control Manchester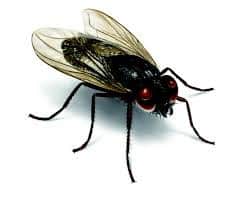 Distribution
There are two types of housefly:
Common houseflies can be found anywhere across the globe and have a flight range of around 5 miles. In cooler temperatures breading tends to stop usually just before winter. During the winter months the insects hibernate either as pupae or adults, with this said in warmer environments houseflies reproduce and remain active all year round.
Lesser Houseflies are commonly found in poultry houses. Their flight pattern is erratic and are usually seen in large numbers flying around indoor light fittings. The Lesser housefly can withstand cooler temperatures than the Common housefly. This insect can survive the winter in the pupae form and like the Common housefly remains active and reproduces all year round in warmer environments.
Significance
Houseflies can transmit their eggs and intestinal worms, as well as this they have the potential to spread diseases such as gastroenteritis, dysentery, cholera, typhoid and tuberculosis. They will frequently feed on any solid food that is easily liquefiable.
Flies liquify their food by regurgitating their stomach contents and digestive juices onto the solid food. They ten use their suctional mouthparts to draw up the liquid they have made, by doing this the flies pick up pathogenic organisms on their bodies that can then be transferred onto other surfaces or even survive the gut and be deposited when the fly defecates. Flies are often a cause for complaints to environmental health authorities, problems usually arise when infestations over-spill from breeding sites such as animal houses and rubbish tips.
Control
Flies bread rapidly, and infestation can spread quickly so in order to control them it is important to treat both the larval and the adult flies.
It is important to keep to a good level of hygiene:
Keep domestic waste in well sealed bins
High risk waste should be sealed in bags and if possible burnt
Refuse tips should be well covered with earth at least 9inces deep and compacted
Farm Manure should be kept as dry as possible
Use fly screens to prevent flies entering the building
Utilise fly killing units which can be purchased directly from pest control Manchester
---
If you're having problems with flies then call Pest Control Manchester on 0161 210 2536 to arrange a survey.
---
more information....
Empty section. Edit page to add content here.
Google Customer Reviews
Professionalism, Quality

Reliable service with friendly team. Very proactive and compliant to site policies and procedures. Jobs completed on timely manner.
Rex
Very good professional service by Abbie. Everything was explained clearly and put my mind at rest.
Mary
Our technician, Dylan is first class - knowledgeable, efficient, helpful and cheerful.
Moses
Read more reviews on our pest control services